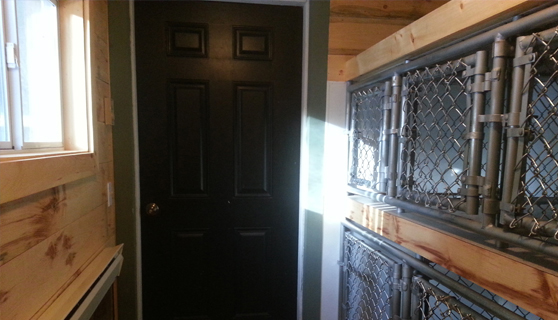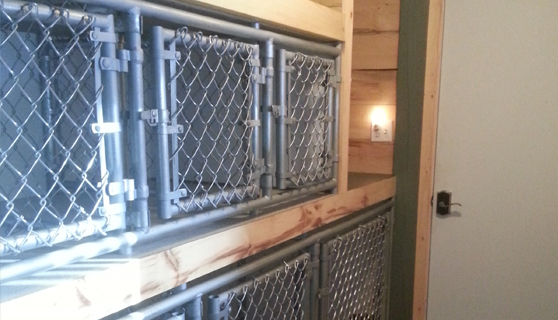 SELF CHECK IN/OUT ROOM
We are proud to introduce our brand new self check in-out room!
Perfect for those wanting to drop their dogs off a little bit early.
Or perhaps pick them up a little bit late.
Only want to ski a half day?

No problem, just let us know what time you will be coming back and we'll move your dog into the Self Check Out Room a little bit before and you can grab them when you come by

We understand that some people may need to bring their dogs in a bit earlier than we open in the morning. Or perhaps pick them up a bit later. Sometimes it is more convenient to pick up your dog mid-day when our facility is closed to the public. Well now you can!
We have created a safe and easy to use room that allows you to work around your schedule.
Our temperature controlled room features individual pens of various sizes in a self locking room attached right to our facility. Once you bring your pet through our doors they will not leave the building or play yard until you come back to pick them up. This provides maximum safety for your pet.
Each pen may be locked with a padlock only you and our our staff know the combination to.
Our room is available by reservation only. We must know that you intend to bring your pet and at what time. When using the room for a special check-out we must know ahead of time that you intend to pick them up via self check-out, that way we can have them in there, and ready for you at that specific time.
If you plan to use our room we will give you our current lock combination so that you may let yourself in.
We are happy to give you a tour and demonstration if you like, just let us know!

If your dog has been with us before and you have an emergency you can drop them off day or night, just call or text us to let us know.
Use of our room is an additional $5 per use.
If you plan on picking your dog up from our facility via self check-out your payment is due upon arrival.
We are very proud of our facility and always treat our doggie clients with love and respect. We appreciate your cooperation in keeping our pets calm and happy during their time with us.
Woof Woof
Thank you!