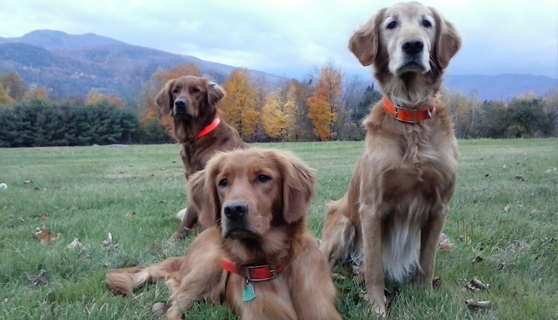 Hotshots Golden Retrievers are bred primarily from working pedigrees, all sires and dams have been OFA tested and cleared of any inherited problems including hips, elbows, heart, and eyes. Our females have also been tested for ichthyosis. All dogs are bred in an effort to produce the healthiest offspring possible while maintaining the breed standard. Temperament is of the utmost importance. Our dogs are intelligent, friendly, athletic, and obedient. We are proud to be breeding good looking dogs with sense!

Breeding from strong working lines is important to us. Goldens were originally bred to be hunting companions; ideally an athletic, intelligent dog that was also a welcomed house pet. Working lines also have coats that are darker in color and less feathered; making them easy to maintain. These dogs dry quickly after a swim. Our dogs are very people pleasing, energetic, easy to train dogs. They have common sense, which isn't always easy to find in a dog these days. Our dogs have a smaller build than most goldens, our dogs are very athletic and sleek looking. Our males tend to weigh under 70 pounds and our females under 60 pounds. Our extremely selective breeding program ensures that our puppies are bred for health, temperament, and from outstanding field champion bloodlines.
These dogs love being active outside, they are a high energy breed; they train easily and are very loving and loyal. We have 3 generations on site; each bitch is bred only twice after gaining genetic health clearances. We use studs from all over North America and Canada.

All females are CHIC certified. We use the OFA PawPrint Genetics,, and Optigen to certify our dogs. Males we use as studs also undergo these genetic health clearances. Pedigree information and health info can be found online at K9data.com and on the OFA database:
Miss Bailey Mae Carver
Miss Heidi Ann Carver RN CGC
Hotshots Anything Goes Gracie RE CCA CGC
Hotshots Scarlett O'Hara CGC
Hotshots Come And Get It Callie CGC
Hotshots Copper Skies On Fire RA CCA CGC
Because these dogs are our pets they are limited to 2 breedings throughout their life. Once they are retired they are spayed and remain our pets for the rest of their lives. We do not re-home our pets once they are retired from breeding.

Our puppies are raised in our home with lots of love and attention. They are well socialized and started on basic training when you take your puppy home at 8 weeks old (or after). We provide the best start possible for your pup. Our puppies are introduced to a variety of stimulus prior to leaving our home. New surfaces, sounds, people, other pets, crates, kids, car rides, you name it they will have encountered it. It is very important that you continue with socializing your dog once you bring them home.

Our puppies do not leave until 8 weeks old. The will have received first immunizations, routine de-wormings, microchips, and come with thorough puppy information kits. Kits contain all of their genetic information, pedigrees, copies of all contracts, AKC paperwork, information on continuing training, socialization, nutrition, exercise, and other resources to help you in rearing a well-balanced and healthy dog.

Our puppies are registered with Limited AKC Registration. We do this to protect the integrity of our lines and our pups. Our dogs are sold to approved owners and do come with spay/neuter contracts. We require you to fill out an application to be considered for one of our dogs. We reserve the right to say no to any home we feel would be less than ideal for one of our pups. We will give priority to those seeking a pup for competition and performance, and also to those who currently own one of our dogs.

We require spay/neuter contracts on all of our pups, and also require the dog be returned to us at any age should you be unable to further care for your pet.

We currently have three of our breeding females competing in AKC Obedience and Rally trials, one female competing in Agility, and one male a trained Therapy Dog. These dogs are not only great hunting companions but are able to complete any task set before them.

We highly encourage you continue with crate training your pup and attend puppy classes.