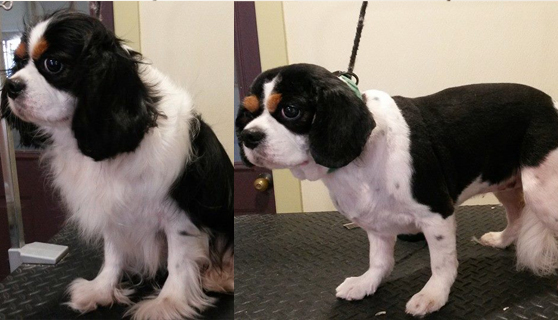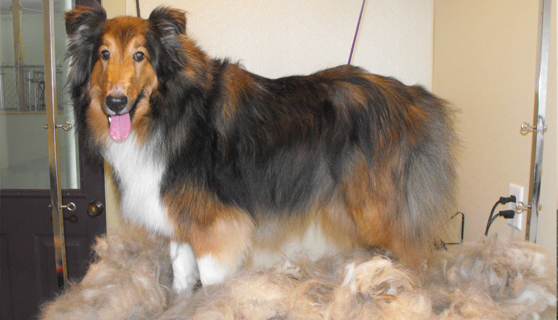 Grooming
At Barker Brook we groom all sizes and breeds of dogs and cats. Our salon is open Tuesday through Saturday by appointment only. Most of our clients schedule regular appointments every six to eight weeks, but we always welcome new clients. Our first concern is for the health, well-being, and comfort of your pet. While we always try to make both humans and pets happy with our services, your pet's comfort and safety are our number one priority.
Our salon has been in operation for over 16 years. Formerly the Doggy & Kitty Salon in W. Bethel, we moved to Barker Brook in December 2011. We offer grooming for all breeds, and mixed breeds of dogs, from toy poodles, goldens, and schnauzers, to shepherds and boxers.
All full groomings include a nail trim, paw treatment , ear clean, bath, blow dry and brush out, sanitary trim and clip of your choice. We clip dogs in your desired cut and de-shed those in need. We also offer hand stripping for those who desire it.
For friendly felines we offer nail trims, full shaves, lion cuts, sanitary trims, and brush outs, occasionally we do bathe cats.
We have many shampoos for you to choose from, including:
• oatmeal and skin soothing shampoos
• itch relief shampoo
• degreasing shampoo
• whitening shampoos
• flea baths
• and hypoallergenic/fragrance free shampoos
Many of the dogs we groom make scheduled appointments every 6 - 8 weeks. Grooming does book up fast; we recommend people interested in regular grooming keep scheduled appointments. While we make every effort to schedule your pet in a timely fashion please keep in mind that we are often booked out several weeks. Please plan accordingly.

Every purebred and mixed breed dog needs to have its dead fur removed in order to stay healthy, comfortable, and avoid skin irritation and discomfort.
For many dogs their fur protects them from the cold and the heat, but in order for the coat to function properly it must be clean and free of excess hair.
Shaving your dogs double coat will not reduce shedding, it will not help your dog stay cooler, and it will not protect them from the elements as it was designed to do. We DO NOT shave double coated dogs unless medically necessary.
All dogs benefit from a clean and healthy coat!
Fees:


Because each dog varies in size and coat type, prices vary. Please call us if you are interested in a quote for your pet's grooming needs.

Most dogs grooming starts at $40 and cats at $20. Additional charges may apply for severely matted coats, pets temperament, aggression, and difficulty due to being overweight, and/or elderly.

Nail trims are always just $10.

Please note, we WILL NOT shave dogs which should not be shaved, including but not limited to: golden retrievers, labradors, german shepherds, and aussies, etc. Unless medically necessary.

If dogs come in with minor matting we may be able to brush out the coat. If we deem it cruel to attempt brushing a severely matted coat we will clip the coat as short as necessary to remove the painful matting. Your pet's well-being comes before your preference for a certain look. Additional charges may apply.

Hours:


Tuesday through Saturday BY APPOINTMENT ONLY
AVAILABLE FOR PURCHASE
We also offer Frontline, Capstar, Doggy Sunblock, Coat Conditioner, Musher's Secret Paw and Skin Protection, Itch Stop Spray, Combs and Brushes, as well as a selection of collars and leashes for all size dogs. We also have a variety of dental treatments, and breath fresheners. We carry a limited supply of doggy coats and orange vests seasonally.