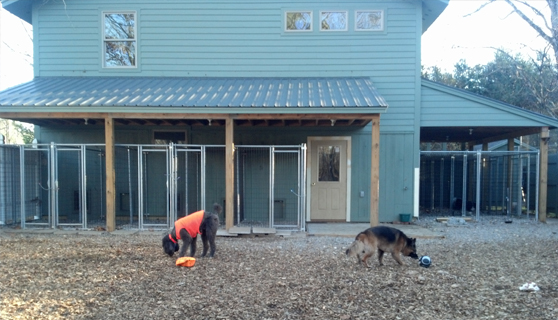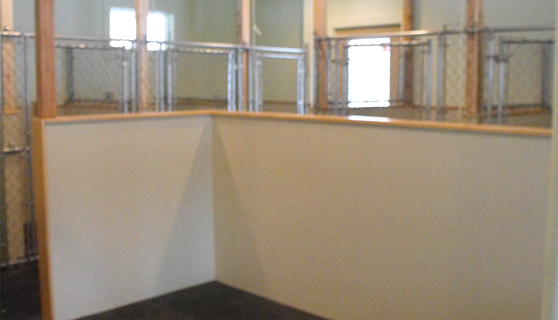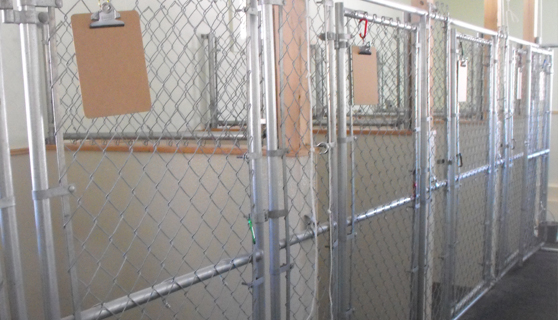 Boarding
Our small facility is nestled in the foothills of the Sunday River Ski Resort. We are in close proximity to the Bethel Village, Mt. Abram Ski Mountain, Bethel Inn Resort, Newry, and the White Mountains of New Hampshire.

While your pet is in our care we promise to provide them with all the love and attention we give our own pets. Your pets safety and comfort are our highest regard. We are primarily a cage free facility. Each guest receives a private pen for daytime napping and overnights.

We offer private runs, a clean and comfortable indoor atmosphere, as well as large fenced in play yards outside. Our days are structured to include play time with others, or individually if preferred, and periods of quiet rest. We take many trips outdoors throughout the day. We play outside the majority of our time, weather permiting. Our overnight boarding guests also get to join the daycare group during the day at no extra charge.

Our runs come in two sizes, 5x5 or 5x10 (inside space) with a dog door connected to a 5x10 private outdoor run. Multiple dog families are encouraged to stay together as they are most comfortable being with one another. If your dog is more comfortable sleeping in a crate at night you may bring your own or we can provide one for them.

We have comfortable recycled rubber flooring in our pens and indoor playroom. This is not only environmentally friendly, but provides a warm surface for your pet to lie, as well as offering good traction underfoot. The rubber offers anti fatigue qualities and is easy on the muscles and joints.

All dogs receive individualized attention and affection from our wonderful staff. Whether it's a belly rub or rousing game of fetch, we want to make your dog feel at home while you're away.

Play sessions are supervised to ensure the safety of your pet. Keep in mind that sometimes even non-aggressive dog play can cause injury to dogs. Dogs play and communicate with sharp teeth and nails, abrasions and superficial scrapes are to be expected. Please look over our policy page and request a release form for more information.

Our indoor play room is a good place to warm up on cold winter days, and get out of the sun during the summer. Many dogs are more comfortable playing in smaller groups inside and our play room is perfect for a good game of keep-away, or a wrestling match.

While most dogs prefer to play outside with each other during the day, some would rather just lounge on their beds with a toy in private. Any and all dogs are welcome here, whether they're young & playful or senior citizens just looking for a warm bed and some belly rubs, we cater to each dogs needs.

Daycare is included the day of your overnight at no additional charge. If your dog is new to our facility we encourage you to drop them off in the morning so they can get acclimated prior to bedtime.

If your dog will be staying for an extended period of time with us we will ask you to bring them for a day of daycare prior to booking boarding reservations to make sure it is a good fit for them and us.
We want your pet to feel comfortable during their stay. We encourage you to bring your dog's bedding from home, as well as their own dog food. Consistency is important for the well being of your pet. We can provide bedding if you like, as well as food for an additional charge.
We are able to accommodate pets with special needs. We welcome pets with disabilities, and medications as well. Please note that pets with certain medical needs may incur additional charges.
We appreciate your cooperation in helping us create a calm and relaxed place for your pet. Please bring your pet in on a leash and keep drop off's and pick up's as short and sweet as possible to limit stress on our guests.

Owner Justine Brooks is Pet CPR and first aid certified
Fees:


$22/each per night for multiple dogs, provided they share a run.

Check out is considered the morning following your overnight. Should your pet remain for daycare normal fees will apply. ($20/dog)

You may drop off your dog either during AM hours or PM hours the day prior to your overnight.

Please have veterinary information and emergency contact numbers ready at check in.

Dogs are welcome to stay until PM hours but you will be charged for daycare that day.

Dropping-off & picking-up outside of regular hours may be arranged ahead of time for an additional fee. Please see our Self Check In/Out Page for more information.

What to bring:


Copies of vaccine records indicating your dog is current on rabies, distemper, and canine cough (bordetella)

Beds and toys are welcome

Hours:


Open Daily from 8-10 AM & 4-6 PM

Closed on the following holidays : Christmas, Thanksgiving, Easter

The kennel is CLOSED to the public from 10-4 daily.

In an effort to keep all of our guests relaxed and comfortable we are CLOSED to the public from 10-4 daily. Having people come in and out of our facility, and new dogs joining and leaving play groups, is very disruptive to our guests, so we like to keep these times to a minimum to ensure maximum comfort for our dogs. It also means less time spent caring and supervising your pet when we are in our office with human clients. We appreciate your understanding and cooperation.

We have a boarding release form for you to fill out upon arrival. You may request this form ahead of time if you like. Please visit our policies and procedures page for more information.